About Van Racking Solutions
Everything you need to help you select the perfect racking system for your vehicle can be found on our website.
View our comprehensive range of services including design, installation, auto electrics and more.
Our team can supply you with solutions from simple, functional installations, all the way through to complex and highly bespoke complete refits and everything in between.
Please take a look through our case studies and completed projects for inspiration or if you know exactly what you want, complete the contact form and one of our team will be in touch.
However, if you are looking to install components yourself, you can visit our online shop to purchase anything from racking accessories to under floor drawer kits.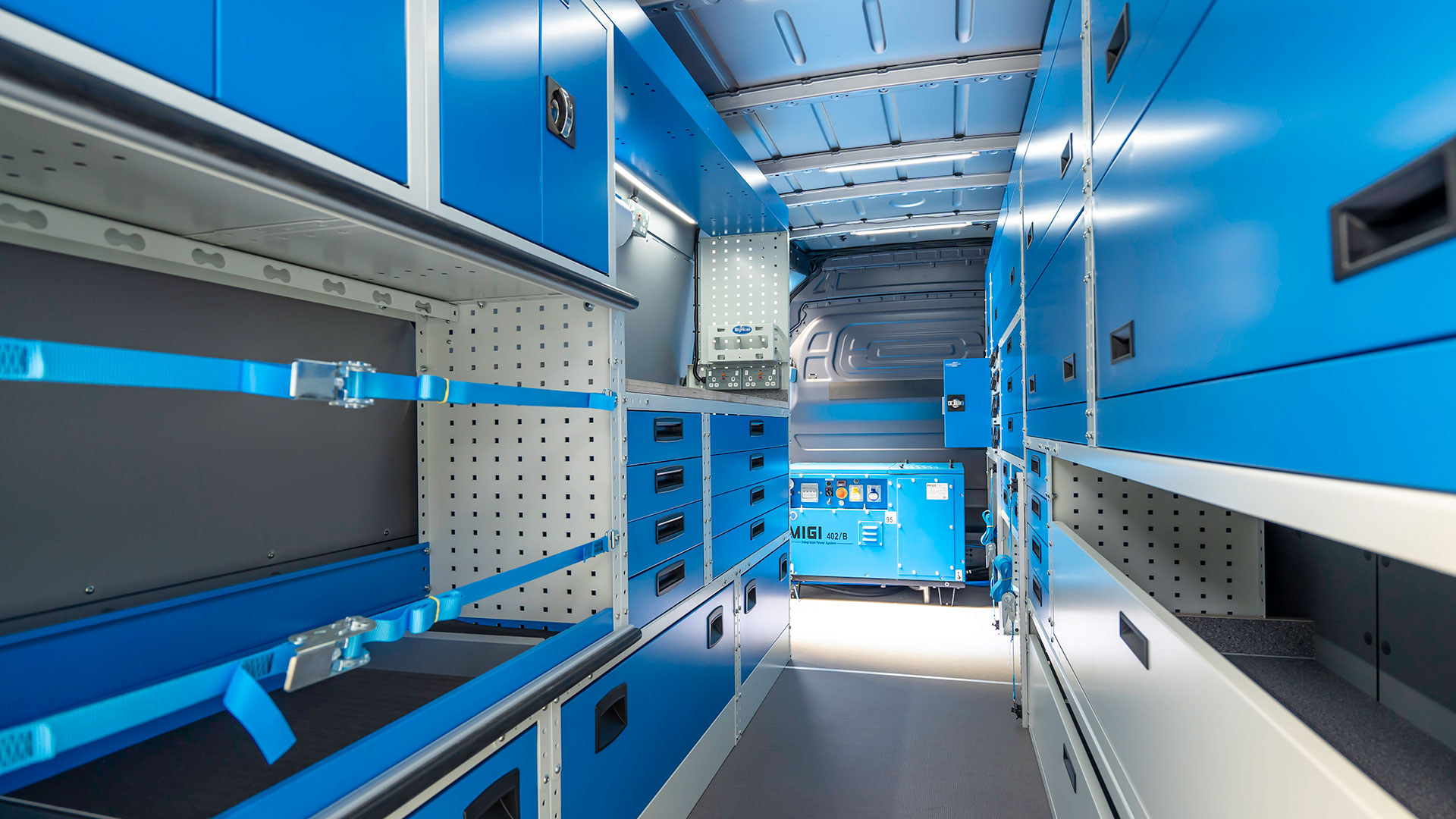 Our History
Van Racking Solutions was incorporated in 2014 following extensive research to find the perfect racking system for the UK market. After tracking down Italian manufacturer Syncro System and finding that they did not have a UK distributor at the time, we were able to quickly establish a relationship that is still going strong today.
In the autumn of 2015, we entered the market and started the process of establishing ourselves as the 'go to' company for vehicle racking across Dorset and the surrounding areas. Over the next few years our reach grew, and within what felt like no time at all, we had clients from all corners of the UK. Our goal has always been to offer our customers a one-stop shopping solution, where high quality products and professional fitting are a given, but the key is to personalise every vehicle that goes through our workshop to the duty it will be undertaking in its working life.
VRS has gone from strength to strength in the marketplace and we have received phenomenal support from our customers over the years. We are recognised by our clients as capable of tackling anything they can throw at us and we greatly welcome unique and highly bespoke projects.
Our door is always open, so if you prefer face to face chats as we do, feel free to drop us a line and book an appointment.
Our Manufacturing Partner
In 1960, the Syncro System Group established itself in North-East Italy. The founder, Francesco Communello, used his innovative engineering skills to manufacture bicycles and associated parts. The group developed with the times and continually innovated its range of products to meet market needs, and in 1996, the family made the decision to concentrate on manufacturing equipment for commercial vehicles.
To this day, Syncro System Group remains owned by the same family, and whilst they now provide worldwide distribution via their global dealer network, they continue to manufacture their products from a state-of-the-art factory in their hometown of Via Portile. The company is continually innovating, resulting in the introduction of the new "Syncro Ultra Racking" range in 2019, ensuring it stays ahead of the market.
Van Racking Solutions has a superb working relationship with Syncro and they are always on hand if there is a specific technical issue we need to talk through with them. Our team visits the factory frequently, including for technical training and to view the latest innovations for the future. We have always been welcome on the factory floor and strongly believe that being able to see the manufacturing process first-hand allows us to pass on what we have learned to our customers.
Meet Our Team
At VRS we believe the success of any business is about a lot more than the services and products we offer –  the team that interacts with our customers and our skilled workshop installers are the key ingredient at VRS – meet some of them below.
Our Partners
At Van Racking Solutions, we believe it's important to supply and fit only the best products to our customers' vehicles. We regularly partner with market leaders to ensure that our clients have access to the best products available in the market. Whilst we work with a wide range of suppliers and manufacturers to satisfy the requirements of our diverse and growing customer base, we work particularly closely with the following partners.
Our Clients
We are proud to provide racking solutions to a range of fantastic clients, including businesses from a wide array of industries and from all corners of the UK.
What Our Clients Say
We always go above and beyond to deliver a racking solution that provides results for our clients! Here are just a few of the kind words our clients have said about our previous installs.
Champion Forklifts have had several vehicles kitted out by James and the guys at Van Racking Solutions. A superb company who use their expertise to ensure the highest quality finish. We couldn't recommend them highly enough!
From the first enquiry call I made regarding converting my transit van into my mobile workshop, the whole process was effortless and handled in the most professional way possible. I have run my own vehicle repair workshop for eighteen years and I have now decided to run the business mobile. Van Racking Solutions ticked all the boxes, supplying and installing quality products within the timescale quoted to carry out the work. My van has been finished to such a high standard, I will not hesitate in recommending the company to anyone.
Outstanding service and quality of the work. Couldn't be happier with the outcome. Very good at finding solutions for any problem and would recommend to anyone.